As more and more companies move to a remote working environment, opportunities for freelancers are growing. But it's easy to form bad habits when you're working from home for yourself. Like staying in your PJs or taking sneaky breaks to watch Netflix. Giving into temptations in your home space may result in lost productivity which, in turn may lead to unhappy clients and less income. But how can you ensure you stay focused when working from home? Use these productivity tips to level up your work-from-home game and take your freelancing career to the next level.
1. Set a routine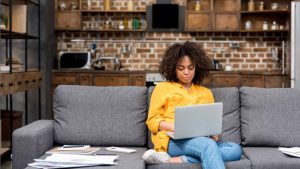 First things first, set a routine for your day and your week and try your best to stick to it as much as possible. Creating a daily schedule will help you stay organised and motivated. Leave time early on in your day to plan your week, checking emails, and update your social media pages. Once you have a plan, things will run a lot smoother and you'll know when you'll have to time to shuffle things around for unexpected changes or last-minute client requests.
2. Create a workspace that works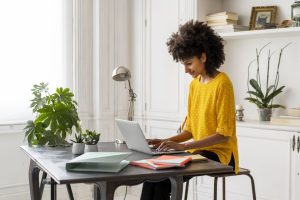 Your couch might be your favourite place to sit, but it's probably not the greatest spot for you to work. Maximise your productivity and cut out distractions by creating a functional space that's strictly reserved for work. Make sure the area has good lighting and air circulation, and that it's quiet. You can also give your workspace a calm vibe with some plants or wall décor. And, of course, ensure that the area is clean and uncluttered before you start work every day.
Find the best prices on home office equipment online with PriceCheck now:


3. Get dressed for work
Just because you're working from home, doesn't mean you should let your professionalism slip. Getting dressed for work sets the right tone for the day. Wearing certain clothes affects the way we feel. Sweatpants and a hoodie might be comfy, but they could also quietly be telling your brain to switch off and chill. Dressing up like you would to attend a client meeting will tell your brain to wake up and get focused.
4. Invest in the right technology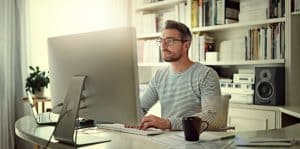 By setting yourself up with the right tech from the get-go, you'll be able to deliver higher quality work in less time. Invest in good technology to so you can stay on top of work deadlines and deliver the best possible product to your clients. Do some research on the latest tech to find the best laptop for freelancers and invest in the best tech for your industry.
Find the best prices on laptops and PC equipment online with PriceCheck now:


5. Separate your social life from your professional life
Juggling personal and professional communication can get messy. When you're responding to a million different people at once, your productivity is guaranteed to take a dive. Consider having a phone line and email address dedicated purely to work. During work hours, switch your mobile phone to silent mode and don't be tempted to check personal emails.
Forming better work habits may take time, but it will be worth it in the end. Greater productivity is not only good for your sense of achievement as a freelancer, it's good for your bank balance too!