If cleaning the house isn't exactly your idea of a good time, you'll want to spend as little time doing it as possible. But, dedicating little time to housework doesn't mean you can't have a sparkling clean home too. There are plenty of ways to maximise your time spent cleaning your home so you can tick off items from your chores list quickly and effectively. Keeping your home clean is especially important during this time to help prevent the spread of the coronavirus, so we've put together our top 5 tips for quick and easy cleaning so you can spend your time during the lockdown doing things that bring you joy.
1. Keep things tidy: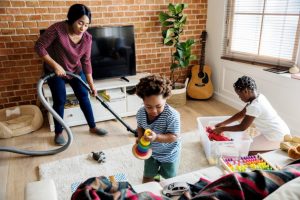 The easiest way to prevent having to do one, long big clean at the end of each week is to make a concerted effort to keep your home tidy. There is a big difference between cleaning and tidying, but having clutter around the house and things out of place can make your home appear less clean than it actually is. Take a few moments during the day to tidy up as you go and put things away so you'll spend less time tidying up the mess when you get down to cleaning your home.
Where possible keep your room décor minimalist. Keeping clutter like ornaments, books and ceramics to a minimum will also help you cut down your cleaning time. Having surfaces that are free from unnecessary odds and ends will ultimately mean you will have less cleaning, tidying and dusting to do.
Find the best prices on home cleaning items and other lockdown essentials online with PriceCheck:


2. Make a Cleaning Caddy: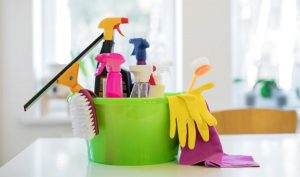 Make your cleaning more efficient and less time consuming by organising your cleaning supplies in a cleaning caddy. This way, no matter where you are in the house, the essential tools and products will be right at your fingertips. Fill it with cloths, an old toothbrush, scrubbing brushes, and sprays bottles so you have everything you need within reach.
Find the best prices on home cleaning items and other lockdown essentials online with PriceCheck:


3. Take on key areas on separate days: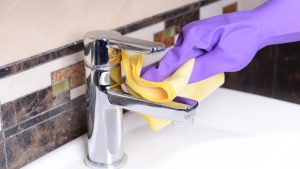 You don't have to clean your entire home in one day. To make things more manageable, break up the key areas in your home and tackle them on separate days. Split intensive jobs such as cleaning the bathroom and kitchen and tackle them on separate days.
4. Clean with Microfibre Products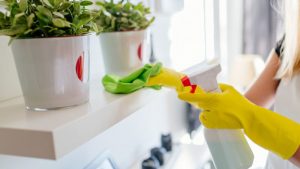 For truly sparkling surfaces, clean your home with Microfibre products. Microfibre cloths attract and hold dust with an electrostatic charge which makes them one of the best tools for dusting and polishing. Unlike dry rags and feather dusters, which just spread dust around, Microfibre cloths remove dust from surfaces. Opt for the machine-washable microfibre cloths so you can use them over and over again and save money. Just make sure to let them air dry (so they'll stay soft), and don't use bleach or fabric softener, which degrades the fibres and reduces their ability to attract and hold dust.
Find the best prices on home cleaning items and other lockdown essentials online with PriceCheck:


5. Smell the roses: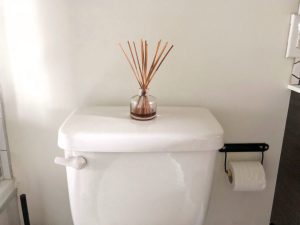 Another great way to keep your home feeling clean and fresh is to pay attention to your home's scent. Cleaning can go far beyond what you see and you most definitely don't want strange odours to overshadow your beautiful home. Keep your home smelling great by making sure key odour generating areas in the home, like the bathroom or rubbish bins, are taken care of on a regular basis. While air fresheners are great to maintain a lovely smelling home, make sure you don't just cover the smell with fresheners but rather treat the cause of the odour.
Find the best prices on home cleaning items and other lockdown essentials online with PriceCheck: