Cooking an Easter lunch is stressful enough without having to think about how you're going to the lay the Easter table. But decorating a show-stopper Easter lunch table doesn't have to be difficult, you just need a few cheats and tips to help you on your way! Check out these 3 easy-to-do décor tricks and tips for a gorgeous Easter table that is sure to wow your family and guests.

1. Start with beautiful crockery and dishes: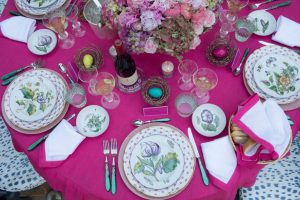 Pretty crockery will help set the stage for a show-stopper Easter table. Many of us have those crockery sets that are reserved for 'special occasions' but we never use them. Easter is the perfect time to dust off those special dishes and put them to good use. With beautiful dishes creating a stunning place setting for your Easter table couldn't be easier! If you have a few different sets that are a similar colour or theme, layer the plates and dishes on your table to add personality to your place settings.
2. Opt for simple centrepieces: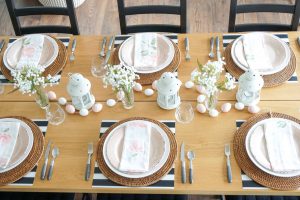 Don't splash out on over-the-top pricey centrepieces. Simple centrepieces are another great way to create an elegant Easter table that your loved ones will remember. Just because it is the star of the table, doesn't mean it has to be fussy and difficult. A simple centrepiece can be even more beautiful than one that is over the top. Simple flowers or egg garlands can make for beautiful table décor and bring interest to a minimalist-themed table.
3. A treat for your guests: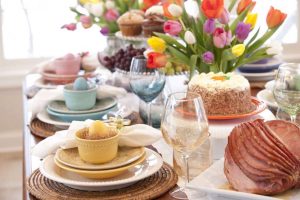 Easter is all about spoiling your loved ones! Place a little something special at each place setting to really make your table extraordinary. Whether it's a few mini chocolate eggs, a small basket of Easter treats, or even a mini bouquet of flowers, your guests will love it! For a very simple option, create a mini bird's nest out of coloured gift wrapping grass, then top it with some mini chocolate eggs.
Start planning your perfect Easter with PriceCheck now. Browse PriceCheck's Easter category for a round-up of Easter essentials at the best prices.