Oh, the weather outside is frightful, but the fire is so delightful, and since we've got no place to go… it's the perfect time to stay indoors and binge on your favourite TV series. If you've got a Netflix account, figuring out what to watch in the seemingly endless catalogue of TV shows can be a daunting task so to help you out we've put together the 10 most binge-worthy TV series you simply have to watch on Netflix this winter.
1. Friends
Arguably the funniest sitcom of all time, Friends is one of those shows that you watch over and over again without tiring. This hit sitcom might have come out in the 90s but it's still oh-so-good. The show follows the day-to-day lives of six 20-something friends living in 1990s Manhattan – hilarity ensues.

2. Marvel's Luke Cage: Season 2
Marvel fans will love this gripping series which tells the story of an ex-convict superhero who fights bad guys to clear his name and save his neighbourhood. This action-packed show starring Mike Colter as Luke Cage is as binge-worthy as they get so make sure you set aside a few hours to get through season 1 and the a few new episodes of season 2.


3. Arrow
Another one for comic book fans. This series based on DC Comics' Green Arrow storyline, follows a wealthy playboy-cum-vengeful superhero hell-bent on saving his city from villains. Armed with nothing but a bow and arrow (and a can-do attitude), this is one super hero you'll want to keep watching week in and week out.

4. Stranger Things
If you're yet to start watching Stranger Things it's time to say bye-bye to your free time because this series will have you hooked! The mystery all starts in season one when a young boy vanishes into thin air in a small town, uncovering a mystery involving secret experiments, supernatural forces, and a mysterious young girl. This thrilling watch stars actress Millie Bobby Brown and once you've finished season one you'll be chomping at the bit to start season two immediately.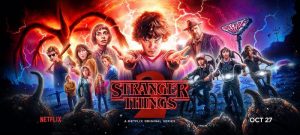 5. Nailed It
If you love baking and laughing your ass off then this show will keep you entertained for hours. The hilarious baking reality show features amateur home bakers, with terrible track records, as they attempt to re-create edible masterpieces for a $10,000 prize. It's a reality contest but it's really just a hot mess that's fun to watch!

6. The Crown
Looking for something a little more serious? This historical, biographical drama showcases the political rivalries and romance of Queen Elizabeth II's reign and the events that shaped the second half of the 20th century.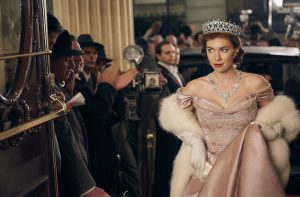 7. Chef's Table
Another one for foodies but with a more serious spin. This Emmy-nominated food series takes you around the globe to meet culinary stars who are re-defining the gourmet food game with innovative, delicious dishes and desserts. Each episode gives you a glimpse into the life of one of the world's top chefs, showing you what makes them tick and where they get their inspiration from – brilliant!

8. Orange Is The New Black
With a few seasons already under its well-watched belt, this dark and funny series follows the story of Piper, a privileged New Yorker who ends up in a women's prison after a past crime catches up with her. The Emmy Award-winning show is a must-see for the young adult crowd.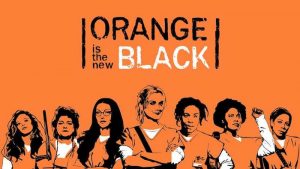 9. Gilmore Girls
Netflix changed the game when it resuscitated cult classic TV series, Gilmore Girls with a new series titled Gilmore Girls: a year in the life. If you've haven't watched the show you can now binge watch all seven seasons of the show, plus the Netflix original series wrapping up some of the big unanswered questions about the characters after its final season on traditional TV.

10. 13 Reasons Why
This hugely controversial show is both gripping and thrilling and will have you glued to your couch for hours. Following the suicide of teenager Hannah Baker, the dark secrets that killed her are revealed in a series of tapes explaining why she took her own life.
Looking for some more movie and TV magic? Check out the extensive list of DVD and Blu-ray offers on PriceCheck.co.za!