Summer in South Africa is braai season and while most South Africans learn to braai in the womb, choosing the best braai for your needs can still be a daunting task. With so many types of braais available on the market, we've made making your decision a little easier with this handy breakdown of everything you need to know about getting grill ready this summer season. Here are some of the best braai options on the market to suit every need.
PATIO GAS BRAAIS
Megamaster Evolution 500 Pro
The adjustable heat plates on the Megamaster Evolution 500 Pro braai allow for a variety of cooking methods – from direct heat to infra red heat, broiling, baking and smoking. What's more, those plates also allow for an even distribution of heat, no matter where the food is on the grid.


Weber Spirit E Series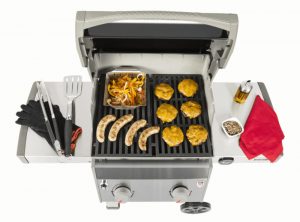 A mini braai with a big heart, Weber's Spirit E Series harnesses all the features of Weber's braai technology in a compact body. From Weber's Gourmet Braai System grates to the porcelain-enamelled Flavouriser bars, that direct grease and drippings away from the burner tubes to radically reduce flare-ups, this little braai is ideal for smaller homes where space is limited.
BUILT-IN BRAAI
Megamaster Built-in Braai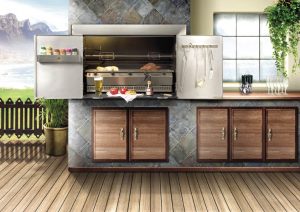 Megamaster's range of wood/charcoal braais with double doors and a lid offers a braai for every need. These built-in braais come in various sizes and include support for a whole range of accessories, from potjie hooks to spit attachments. One of the best features is the built-in ember maker, which is ideal for the quick and easy start-up of embers to get your fire going.


PORTABLE GRILLS
Weber Q Series
This highly versatile and popular gas braai – a sort of evolution of the original kettle braai – includes a small one-burner version (as well as other bigger ones). Easy for the balcony, the campsite or a picnic, it can be combined with a stand for a more ordinary braai functionality.


Weber Q 3000
With its fixed cart, cast iron grid and folding side tables, the Weber Q300 is a space-saving braai that's perfect for parties and family celebrations. From the electronic ignition system to the built-in lid thermometer, the features are designed to make your outdoor cooking experience easy and fun.


KETTLE BRAAIS
Megamaster Grill Elite 570 
If you're looking for a more versatile braai option then a Kettle Braai or "man oven" could be right up your alley. This high-quality kettle braai features silicone handles for heat protection and portability and a removable ash catcher for easy cleaning.


Weber Smokey Joe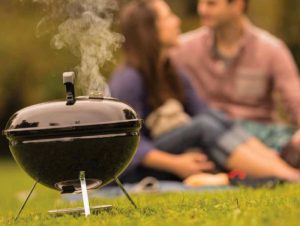 if you love to braai on-the-go then this little Weber is sure to fit right in with your nomadic lifestyle. Just like a classic kettle braai, but small and portable, the Smokey Joe charcoal braai is a miniature take on the classic Weber profile.


Weber One-Touch Original & One Touch Premium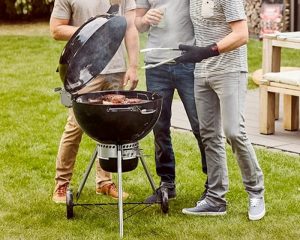 The revolutionary Weber One Touch at the very centre of the whole kettle braai movement was recently updated to include Weber's revolutionary Gourmet Braai System. This clever system has a grate with a removable centrepiece to which you can add a sear grate, wok or pizza stone.


Find the best braai for your budget online with PriceCheck. With a wide variety of braais and braai accessories from a multitude of online stores, PriceCheck takes the chore out of shopping around.