From chopping and crushing to mixing and puréeing, blenders can do it all. Every kitchen needs a good blender but buying an appliance for the kitchen, especially one that gets used as often as a blender, is a big move for a home chef. Considering the fact that blenders can vary widely in almost every category, including size, speed and strength, picking the right one for your needs can seem like a mammoth task. So how do you go about choosing the right blender? Before you shop, use our blender buying guide to point you in the right direction.
Size does matter:
The first thing you'll want to consider when buying a new blender is size. Blenders can vary in size from 3 to 14 cups and it's important to choose the right one for your needs and cooking style.
A smaller blender will be more than big enough for anyone who cooks meals in small quantities for one or two people. But, if you love to prepare meals in big batches or often cook for a large family or groups of friends then a small blender just won't cut it.
Those with storage space concerns would also do well choosing a compact, single-serve blender but if you can spare the space then it may just be the time to upgrade to a larger size.
PriceCheck picks: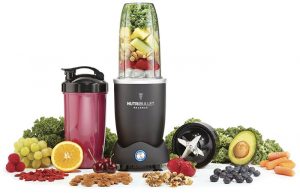 Best single-serve blender: NutriBullet Blender.
Best Family-Size Blender: Ninja Professional Countertop Blender.
Need for speed (and power):
Once you've decided on the size blender you'll be needing, it's time to think about speed and power. Unless you're an avid home chef, chances are you won't need a blender packed with features. In fact, sometimes a simple but powerful machine can be the best choice, even if you're looking to tackle seemingly tough tasks like grinding meat, making nut butter, or even crushing ice.
Where speed is concerned, look for a blender with anything between 3 and 10 speed settings. Less than three speed settings won't give you enough control to really get down to the business of blending while any more than 10 speed settings isn't necessary for a home kitchen. Instead of seeking a multitude of speed settings, rather focus on finding a blender with additional features, such as a pulse button.
Now that you've got speed covered it's time to look at power: 500 watts is generally enough for the typical workload of a home kitchen blender. If you're looking to make basic creations like milkshakes and smoothies, 500 watts will suit you just fine. For tougher tasks, you'll need a little more power. For example, if you want a blender that can finely crush ice to the consistency of snow, you will need at least 1,000 watts or more.
PriceCheck picks:
Best for over-all power and range of features: Milex NUTR 1000w 8-in-1 Blender.
Look out for special multi-tasking attachments
If you've got space limitations in the kitchen, then try to opt for as many multi-tasking appliances as possible so you have fewer things to store in the kitchen. Be on the lookout for special attachments that will save you from buying additional appliances. For example, a blender with a coffee grinding attachment will save you from having to buy a separate coffee grinder.
The right stuff
Look for a blender that does basics well. For example, does it have a stable base and a good lid fit? It may seem like a no-brainer but blenders should stay put while they work. Look for a blender with a stable base that won't wobble or vibrate a lot when blending. Similarly, ensure you invest in a blender with a good lid fit, not too loose or too tight, but just right. Having a tight-fitting lid is important to prevent spattering and a potential big mess in your kitchen, but the lid should also be easy enough to take off without having to wrestle with it.
Additional nice-to-haves include a pouring spout on the jug, to make it easy to empty the contents without having to remove the lid, or a removable plug, or top hatch, to make life easier when adding additional liquid or other ingredients while you are blending.
Price is right
Finally, it's time to consider the price. It's all good and well ticking all the boxes for the blender of your dreams but if it doesn't suit your budget, then you may have to make some compromises. Luckily there are plenty of options for quality, durable machines on the market at an affordable price. Make a wish-list of features you would like in a blender and try to find the machine in your budget that ticks as many boxes as possible.
PriceCheck picks:
Best splurge: Vitamix 7500 Professional-Grade.
Best for a budget: Bosch 800w Multi-talent 3 Food Processor.
Find the best blender for your budget on PriceCheck now. Offering a wide variety of blenders and other kitchen appliances from a multitude of online stores, PriceCheck takes the chore out of shopping around.