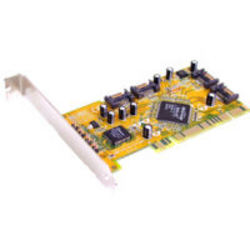 The product that you have searched for is unfortunately not available. Find similar products or please try a new search above.
If you have found this product on another site and believe they should be listed with us, please get in touch with us.
Description
Product Information
Sunix's SATA4000 PCI SATA Card provides an inexpensive way for users to increase the speed or fault-tolerance of their PC. It can upgrade your desktop computer to 4 Serial-ATA channels. It is fully compliant Serial ATA ports on the device side to access Serial ATA storage media such as hard disk drives, external enclosure, CD-ROM / RW and DVD-ROM / RW drives!
FEATURES
4 Internal SATA PCI Card
Serial ATA rate up to 1.5Gb/s
Serial ATA Specification 1.0
Co-resides with Motherboard IDE devices
Up to Hard Driver over 137Gb
Supports RAID 0 / 1/ 0+1
ROM BIOS support Boot feature
Plug and Play
Bundle driver to MAX performance
Supprots Windows and Linux O.S
SPECIFICATIONS
Chipset Silicon Image Sil3114a Type PCI SATA CARD Port 4 Internal SATA Port Speed Max. 1.5Gbps OS Support
Windows 98SE / ME / NT4.0/ 2000 / XP / 2003, 64 bit system, Linux