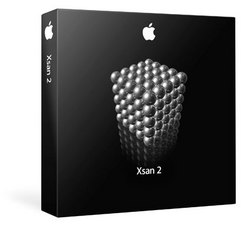 We currently have no available offers for this product.

Try some of these links to browse further:
Description
Xsan 2 VL 10+
Share terabytes of data over an ultrafast Fibre Channel network with Xsan 2. This easy-to-use, enterprise-class, high-performance storage area network (SAN) file system for Mac OS X enables you to share one or more RAID devices with multiple servers or workstations.
Combining enhanced performance with Apple's legendary ease of use, Xsan 2 makes it easier for first-time users to quickly set up and deploy a SAN. It also introduces MultiSAN, which allows users on a single workstation to access multiple SANs at the same time. Xsan 2 is fully integrated with Mac OS X Leopard and Leopard Server and is qualified to work with third-party RAID storage hardware.