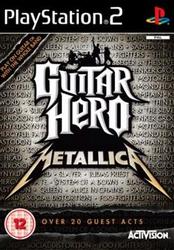 We currently have no available offers for this product.

Try some of these links to browse further:
Description
Activision Guitar Hero Metallica PS2
Shred on guitar, rip on drums and wail on the mic to a set list featuring over 45 explosive hits from Metallica's illustrious career and a wide variety of other legendary artists personally selected by the band, such as Alice In Chains, Foo Fighters and Queen. Fans will be able to rock as Metallica while performing in venues reminiscent of the band's epic album covers, themes from their music and real world locales.
Features