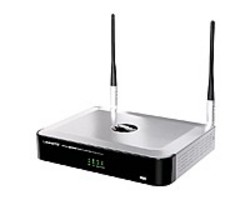 The product that you have searched for is unfortunately not available. Find similar products or please try a new search above.
If you have found this product on another site and believe they should be listed with us, please get in touch with us.
Description
Wireless-G Access Point with Power Over Ethernet

Creating or expanding a wireless network is now as easy as plugging in an Ethernet cord. The Cisco WAP2000 Wireless-G Access Point is ideal for small businesses looking for robust wireless access. Its RangeBooster technology outputs a signal up to twice as far as standard 802.11g, with reduced dead spots and improved throughput up to 35 percent.
The WAP2000 can be powered either through a standard AC adapter or via its Power over Ethernet (PoE) function, which allows the unit to be placed high on walls or in ceilings where no outlet is available.
The Cisco WAP2000 features:
Standards-based PoE (IEEE 802.3af) or external power from the included adapter
Advanced wireless security including support for WEP, WPA, and WPA2 encryption
Improved Quality of Service (QoS) over wireless connections for better video and voice performance
Three dBi antennas for increased connection range
Multiple BSSIDs, wireless roaming, and auto-channel selection
Dual firmware images to maintain functionality if a firmware upgrade process is disrupted
Limited lifetime warranty