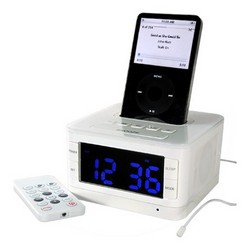 The product that you have searched for is unfortunately not available. Find similar products or please try a new search above.
If you have found this product on another site and believe they should be listed with us, please get in touch with us.
Description
Apple iPod Docking Station
iPod Stereo Speaker Docking Station with Alarm Clock. Listen to your iPod without the need for earphones, recharge your iPod without the need for a computer, and wake up to your favourite tunes straight from your iPod every morning. This is one useful bedroom companion!

You can listen to your digital music from these compact but powerful stereo speakers, and it acts as a recharging dock for your iPod as well. You can choose the music you wake up to and programMing the alarm is easy via the onboard buttons or remote controller.

The docking station's minimalist design, soft tones, and universal docking cradles make it aesthetically and technically compatible with the iPod family of products. It can also connect to non-iPod MP3 players through its stereo aux-in cable.It also has a stereo FM tuner and a 109-cm long FM antenna.