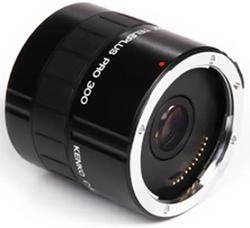 The product that you have searched for is unfortunately not available. Find similar products or please try a new search above.
If you have found this product on another site and believe they should be listed with us, please get in touch with us.
Description
For those times that you need extreme reach of a distant subject, Kenko offers the Pro 300 3x DG teleconverter, designed to give optimal results with fixed focal length lenses of 100mm or more.
Corner resolution is stellar and deterioration of light is kept to the absolute minimum. Amazingly, with lenses of f/2.8 or larger apertures, autofocus is maintained. With all lenses having apertures smaller than f/2.8, Kenko recommends using the PRO 300 3x in manual focus mode.
Key Features
DG Upgrade
This DG teleconverter has upgraded "Gate-Array IC" circuitry to work better with digital SLR's and some of the digital SLR lenses*. This means that the converter's unique circuitry maintains signal integrity between the camera body and lens.
Multicoated
The Teleplus PRO 300 converter is made with high quality multicoated optical glass supplied by Hoya, the worlds largest manufacturer of optical glass. All elements are multicoated on each surface.