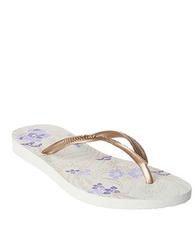 We currently have no available offers for this product.

Try some of these links to browse further:
Description
These cheeky white Havaianas with bronze and purple flowers on the sole are the ultimate in comfortability. The gold thong exudes luxury and style. These slops are playful and can be worn whilst out and about at the beach or while walking around the city.