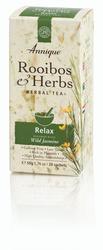 We currently have no available offers for this product.

Try some of these links to browse further:
Description
Rooibos with wild jasmine (Jaminum Multipartitum) is excellent for relaxation after a stressful day. Hospitals regularly use Relax and Night Rest tea to help patients relax and get an essential night's rest after surgery trauma.