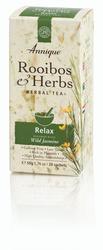 The product that you have searched for is unfortunately not available. Find similar products or please try a new search above.
If you have found this product on another site and believe they should be listed with us, please get in touch with us.
Description
Rooibos with wild jasmine (Jaminum Multipartitum) is excellent for relaxation after a stressful day. Hospitals regularly use Relax and Night Rest tea to help patients relax and get an essential night's rest after surgery trauma.