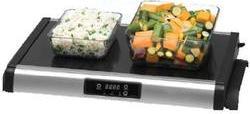 The product that you have searched for is unfortunately not available. Find similar products or please try a new search above.
If you have found this product on another site and believe they should be listed with us, please get in touch with us.
Description
Sunbeam Glass Warming Tray (VGHT-500) -Adjustable temperature control (Low, Medium, High) -Keeps food warm for up to 3 hours -Easy to clean and store -Food can be placed directly onto surface -Separate surfaces -for cooking -Cool touch handles -Warming tray -Anti overheat protected glass surface -Digital control for time and temperature -23OV~ 50Hz 450W 1 year Guarantee.