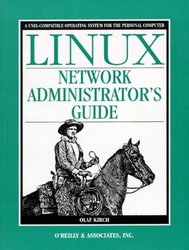 We have not yet found any shops selling this product, we should find some soon.
Description
If you are running a one- or two-system LAN using Linux, you probably only need simple connectivity between your systems. However, if you are setting up a Linux server for your network and its connection to the Internet, you've got a lot of work to do in installation, configuration, and maintenance---and you probably require some assistance. Olaf Kirch wrote
Linux Network Administrator's Guide
as part of the Linux Documentation Project to cover just such information. Although you can download the book for free, the O'Reilly version of the book looks (better layout and graphics) and feels better than the online version and has a superlative index.
This book details all the tasks associated with e-mail setup and maintenance, news group setup, and essential network applications such as rcp and rlogin. In some cases you may find the level of detail not sufficient to complete the task. In those cases, Kirch tells you where to find more detailed information on the Internet. This methodology has kept the book to a very handy size, which makes it an easy-to-use, versatile resource for anyone managing a Linux network. --Robert Frankland