Verbatim 8cm DVD-R/DL Matt Silver media - 2.4X Writable, 2.6GB / 54min - 5pcs Jewel Box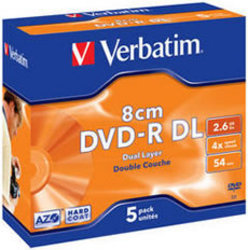 The product that you have searched for is unfortunately not available. Find similar products or please try a new search above.
If you have found this product on another site and believe they should be listed with us, please get in touch with us.
Description
Product Number: 43631
Capacity: 2.6GB
Speed: 4x
Pack Style: 5 Pack Jewel Case
Disc Surface: Matt Silver
Verbatim Dual Layer Discs provide a massive 8.5GB (2.6 for 8cm products) storage capacity. The dual layer of recording has been made possible by the creation of a new substrate layer that sits in between each recording layer. This allows the laser beam to record on both layers. Once the first layer has been recorded, the laser re-focused to record on the second layer.
Whatever you want to record with your digital camcorder, Verbatim has the media for you. Our standard DVD discs can record 30 minutes of video, while our new double layer discs can record almost double that, 55 minutes of continuous recording without the need to flip the disc half way through!
All Verbatim 8cm DVD discs incorporate our Hard Coat technology. This layer protects your home movies day after day against scratches, fingerprints and dust. In tests the Hard Coat layer proved to be 50 times more protective from general wear and tear than discs without the coating.