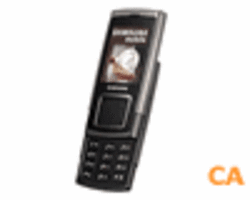 The product that you have searched for is unfortunately not available. Find similar products or please try a new search above.
If you have found this product on another site and believe they should be listed with us, please get in touch with us.
Description
Dynamic Innovation Hidden in Sleek Elegance
The Samsung E950 is an stunningly upgraded version of Samsung's popular E900 released last year. In addition, the slider has a cutting-edge sub touch navigation panel called Dynamic Adaptive Control Pad where the input keys change according to the menu requirements.
At A Glance
Icon-change Touch Control
3.2 Megapixel Camera
Music Player
Espresso UI
Memory: 60MB + microSD (up to 2GB)
Connectivity
Bluetooth Technology v2.0: A2DP / AVRCP
USB 2.0 / TV-Out (NTSC / PAL-B)
FM Radio with RDS