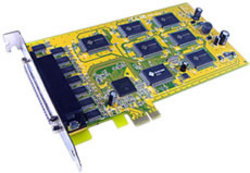 The product that you have searched for is unfortunately not available. Find similar products or please try a new search above.
If you have found this product on another site and believe they should be listed with us, please get in touch with us.
Description
SUNIX PCI Express serial communication board meets the new interface standard for expansion board. It is compatible with PCI Express x1, x2, x4, x8, and x16 lane Bus, enabling this board to be installed in any PCI Express capable PC system. Majority of today's motherboard no longer come with serial ports or only have one port, with SUNIX PCI Express serial board, users can add or expand 4 ports of serial interface on their system, allowing them to connect their serial devices. SUNIX PCI Express Serial Board is the advanced and high efficient solution for commercial and industrial automation applications.
FEATURES
Expands 4 RS-232 serial ports with communication speeds up to 921.6Kbps
Designed to meet PCI Express Base Specification Revision 1.1
Supports x1, x2, x4, x8, x16 (lane) PCI Express Bus connector keys
High speed SUN1889/SUN1699 16C650 compatible UART controller on-board
On-chip hardware auto flow control to guarantee no data loss
Built-in 32 byte hardware FIFO & 128K byte DMA software FIFO
Built-in 15KV ESD protection for all serial signals
Certified by Microsoft WHQL, CE, FCC approval
Support Linux, Microsoft Windows 2000, XP, and 2003
Ready for the Intel and AMD 32/64-bit CPU system