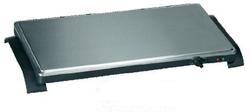 The product that you have searched for is unfortunately not available. Find similar products or please try a new search above.
If you have found this product on another site and believe they should be listed with us, please get in touch with us.
Description
Sunbeam Deluxe Warming Tray (SWT-250)

-Cool Touch Handles for Convenient Serving
-Adjustable Temperature Control Knob
-LOW / MID / HIGH Temperature Selection
-Power ON and READY Indicator Lights
-Stainless Steel & Black finish
-230V 50Hz
-300W
1year Guarantee.