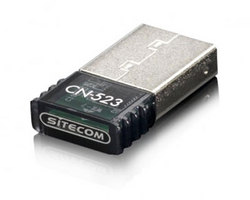 The product that you have searched for is unfortunately not available. Find similar products or please try a new search above.
If you have found this product on another site and believe they should be listed with us, please get in touch with us.
Description
Create a wireless connection between your notebook and your mobile phone or other Bluetooth enabled peripherals
With the Bluetooth 2.0 USB Micro Adapter you can create a wireless connection between your notebook or PC and other Bluetooth -enabled peripherals. The new Bluetooth 2.0 standard enables higher transfer speeds up to 3Mbps and makes new multi-tasking appli-cations (like sharing music/pictures and printing simultaneously) possible within a wireless range of 100 meters.
High transfer speed up to 3 Mbps
Saves up to 80% energy
Only sticks out 11 mm
EDR technology
Easy pairing between devices