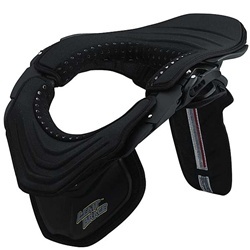 The product that you have searched for is unfortunately not available. Find similar products or please try a new search above.
If you have found this product on another site and believe they should be listed with us, please get in touch with us.
Description

The Leatt-Brace is an injection produced glass reinforced nylon or carbon fiber and Kevlar neck brace system designed by medical professionals and motorcycle enthusiasts to help prevent:
Hyperflexion: extreme forward head movement
Hyperextension: extreme rearward head movement
Lateral Hyperflexion: extreme sideways head movement
Axial loading: compression of the spinal column due to the effect of force on the helmet
Posterior hypertranslation: rearward movement of the head/helmet on the neck.
There is currently no other neck protection system available for motorcyclists that can effectively help prevent all of the above potential injuries. The design rationale behind the Leatt-Brace is to bring the head to a controlled stop. This is achieved by providing a padded rigid structure that acts as an alternate load path for neck forces. Helmet impacts otherwise transmitted from the helmet to skull and then to the neck are re-directed from the helmet to the brace to other body structures in a safe way.

The design of the Leatt-Brace prevents the helmet/head from projecting over the brace and therefore prevents a fulcrum action, which has been documented in literature pertaining to the use of collar devices. The Leatt-Brace MOTO GPX works with most types of body armor and chest protectors. It is also suitable for use by Superbike riders. Over long distances, the Leatt-Brace will also offer some relief from neck fatigue. Only leathers with a hump require minor modification.

The X-Strap (for upright riding position) and GP-Strap (for Superbike leathers with a hump), included with the MOTO GPX, are designed for the extreme rider who may experience 'float' at high speed (Superbike) or in a big air and flat-out whoop situations (motocross). Note: Not all riders will find the X-Strap and the GP-Strap necessary.

The Leatt-Brace MOTO GPX is compatible with all motorcycle helmet types and our design allows riders an adequate range of movement. The Leatt-Brace MOTO GPX is designed for use on all motorcycles and ATVs for competition use, recreational riding and daily commuting. The Leatt-Brace has been tested by BMW Munich, KTM Works Riders, the SABS (South African Bureau of Standards). It is also endorsed by MSA (Motorsport South Africa).

The Leatt-Brace MOTO GPX is available in following models:


Sport
Materials Glass Reinforced Nylon Lower and Carbon Fiber Upper
Weight: Medium 780grams